This article first appeared on my German blog.
As I'm sure you can see from the multitude of photos on my blogs: I love taking pictures and never leave home without a camera. I have fun capturing the world around me. But a little more "wow" for my photos, that wouldn't be bad either. And most importantly, I'd love to show more people in my pictures – here in China, you can do that without consent forms, etc.  But when it comes to getting closer to people, I too often don't dare.
For a long time I wanted to do a street photography workshop with Francois Nadeau, a Canadian photographer living in Beijing. When his workshops started again after a long absence and break due to the pandemic, I joined right away.
Some theory at the beginning
The group is pleasantly small: there are four of us plus Francois. First we go to a café where he gives us a theoretical introduction to the subject: History, notable street photographers and their different styles, different approaches, a bit of technique and theory, composition, light and shadow…. But most importantly, he also addresses the point that is so important to me: there is no reason to be afraid when photographing strangers. After all, you're not doing anyone any harm – and in truth, there's nothing bad that can happen in the process. China/Beijing in particular is ideal for street photography, both in terms of the legal framework and the willingness to be photographed.
Francois encourages us, but also describes a few possibilities if one wants to avoid direct confrontation – be it out of shyness, be it out of the consideration that it changes the situation if someone perceives himself as a photo subject. He also gives us an important principle: respect. And: smile! Great, I can do that.
And then we go straight out onto the street.
Around the Qianmen
We keep an eye out for people and their everyday lives.
Are there analogies or contrasts?
Accessories, special clothing?
Geometries, lines, symmetries – or the breaking of order?
In the Hutongs
As we move towards Dashilar, we talk about light and shadow – and that the harsh midday light in particular can be used in street photography.
Animals of course also always work.
Isn't this sign brilliant?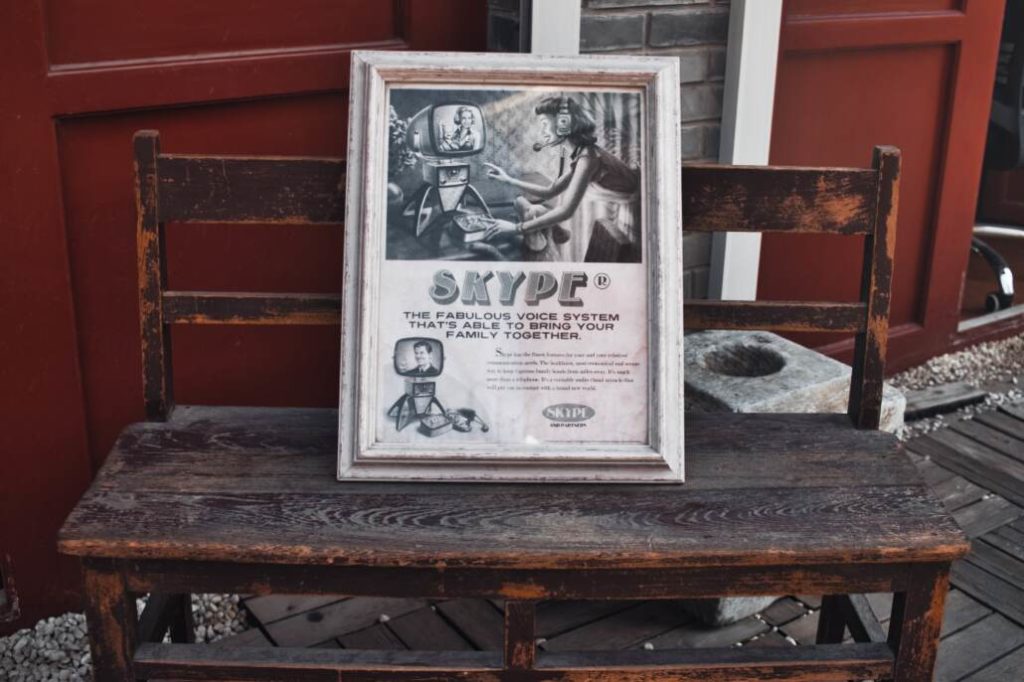 Here's a picture that doesn't work so well, even more so in black and white. Actually, I would have liked to highlight the mix of traditional lampion on the one hand and Peppa Pig and Co. on the other. But that's also a learning effect: sometimes things just don't work out the way you think they will. Here, the background is too choppy, there are too many different elements. (I might have tried my hand at details).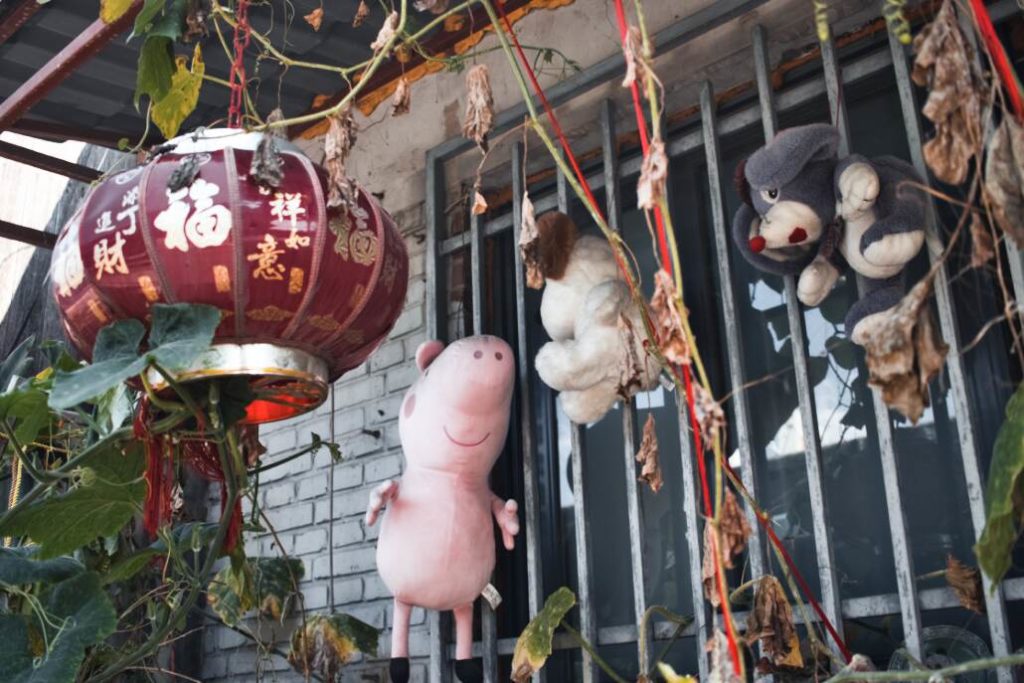 The next picture I like, although or because it is slanted – bit by bit it works better with the shooting from the hip.
Was there something about the smile? It comes naturally, that's how much I enjoy the day. I have "Solar Power" by Lorde as an earworm, the sun is burning, the sky is squeaky blue, and I realize that I will not develop overnight into someone who suddenly holds the camera directly in the face of strangers (I don't want to), but that I can probably overcome my shyness. I just have to keep at it.
Back on Qianmen
She looked at me – and nothing happened at all. Now we are back at the Qianmen, but at the other end.
Some more impressions: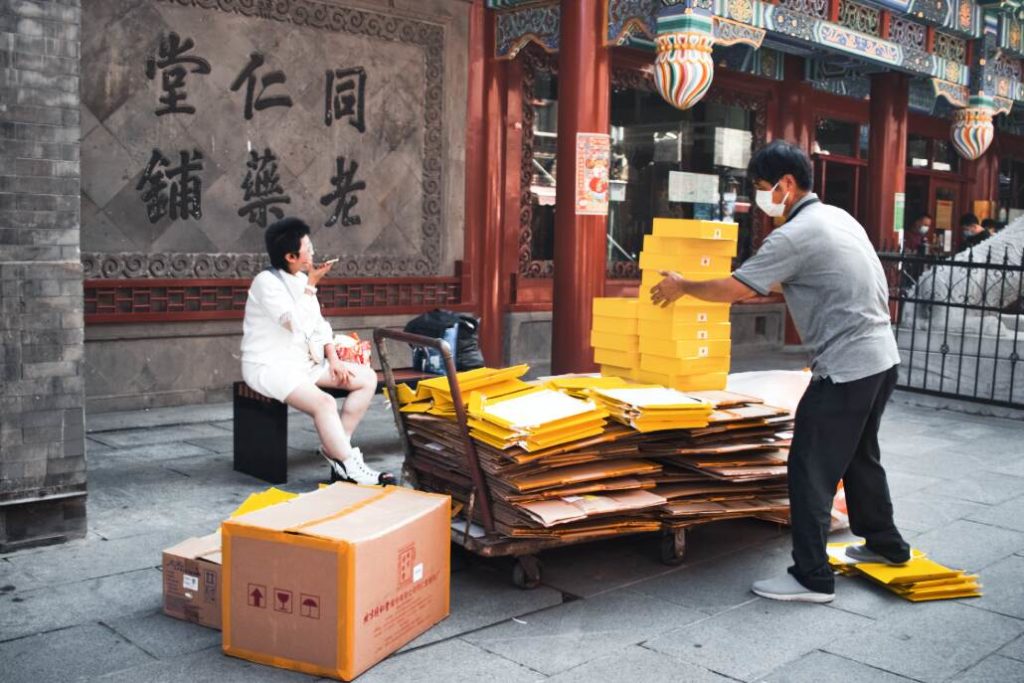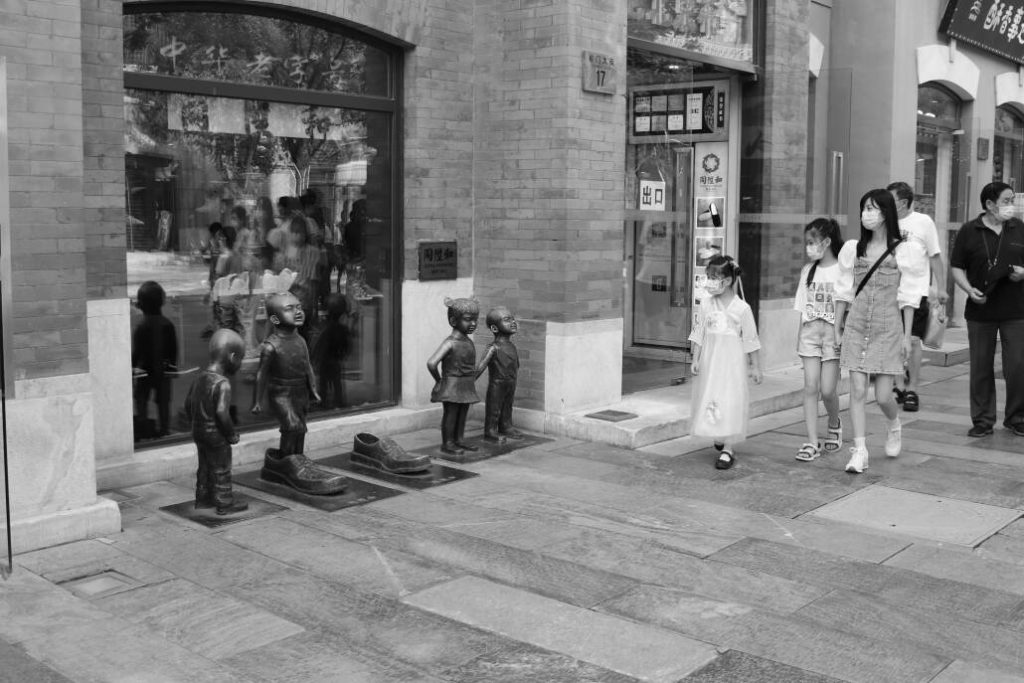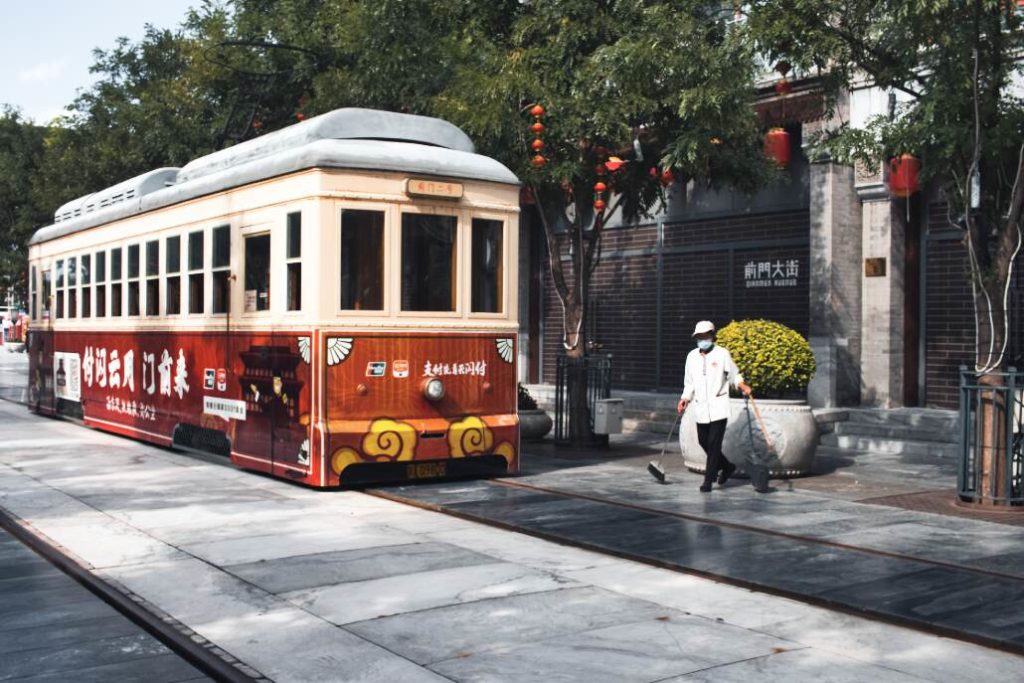 South of Chang'an
One of the other participants would like to go in the direction of Tian'anmen, everyone agrees, so we go over. Unfortunately, not all have their passports with them, at the first control the cell phone photo of the passport is enough, but at the second no longer. Since the sun is still banging pretty hard, in retrospect this probably saved us from sunstroke. Instead, we walk past the police museum and let ourselves drift a little through the shady, tree-lined streets in the district south of the Chang'an.
Again and again we stop and Francois draws our attention, for example, to special lighting conditions. He also takes time for each of us and responds to our different levels of knowledge and concerns. What I like is that he also answers beginner questions – but very succinctly, so that it doesn't take away from the time for the actual topic. Instead, he points to his beginner workshop. So it fits well for all of us. Basically, this day is more about looking right, waiting for moments, light, composition, less about camera technique.
The little princess is asleep.
Girl(s) on a bicycle (and Ralph McTell in my ear).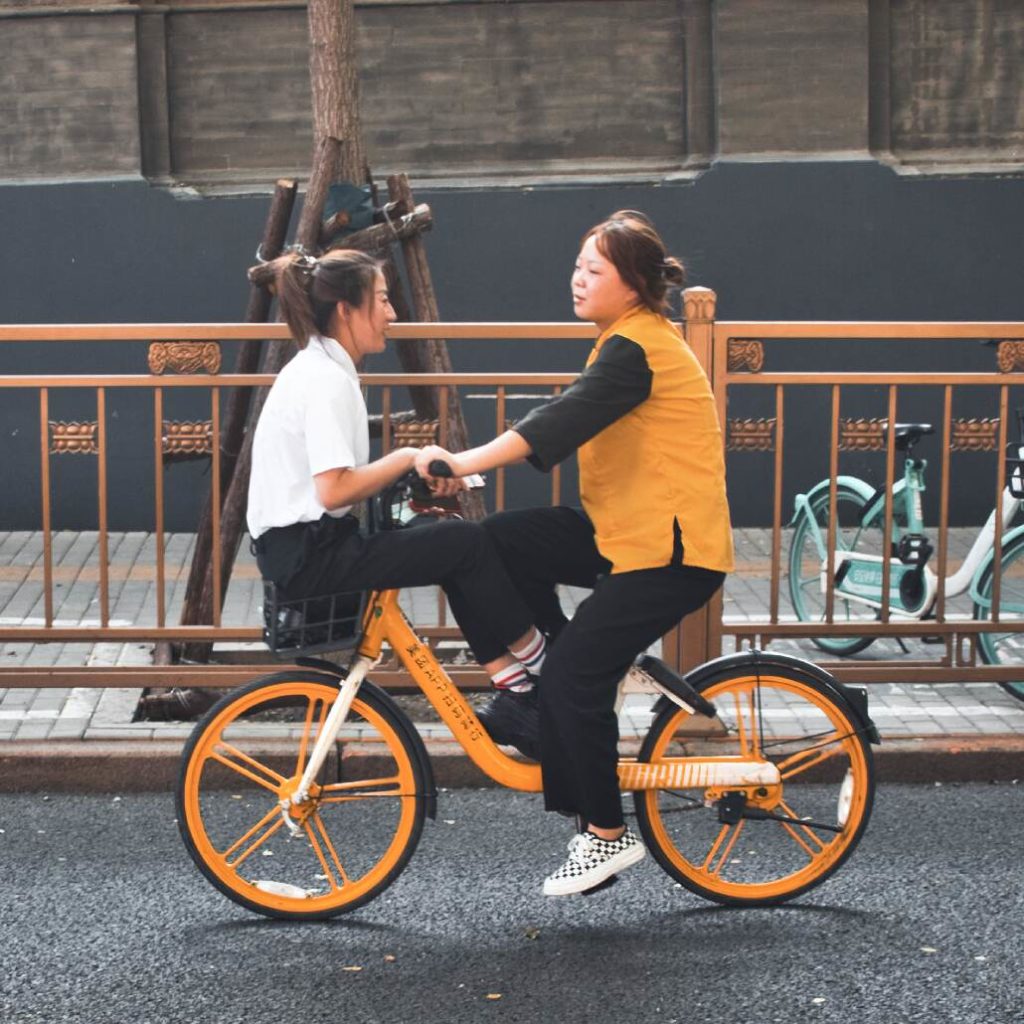 You could stand here at any busy intersection and snap slogan t-shirts. 😉
After seven hours, the workshop comes to an end.
It was a beautiful summer day anyway, so just roaming around would have been a lot of fun. But with all the input, the encouragement, the many tips and hints, the nice company, it was especially nice. This day has brought me a big step forward, I have gained self-confidence. Now I just have to keep at it.
Interested? Here is the link to Francois' website: Just go out and take some pictures.