Recently we were asked at a dinner, if we have ever been to a farm in China. We have not. We were promptly invited to visit at a vegetable farm. On Sunday morning we were picked up, and then we went to Huairou in the north of Beijing.
Scorching sun
It was already brutally hot, over 40 degrees. But in the greenhouses, it sure was over 50 degrees. That was hard to bear with a quick look, hardly conceivable to work at such temperatures.

We were greeted by farmer Liu and led around. On this farm he works together with four other workers and grows different vegetables and fruits. If I understand correctly, farmer Liu has a chicken farm in Inner Mongolia. Only a few chickens are running around here. And a little dog.
Even though I'm interested in the question of where our vegetables actually come from, I am initially captivated by the sunflower field. Fleetingly, I must think of the game "Plants versus Zombies", just as the sunflowers are there in rank and file. The flowers are oriented to the east.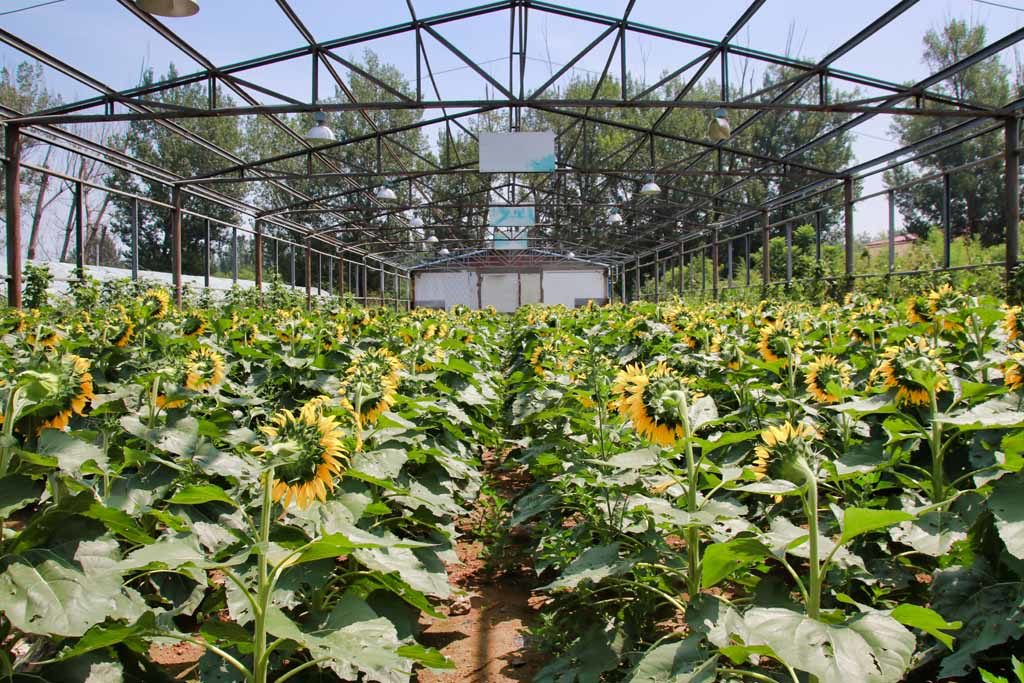 Because of the heat, it takes some getting over to enter the greenhouses. In the first one you can smell immediately, that tomatoes grow here, in the next one it smells like paprika.
In between, however, other plants, e.g. Dragon fruits grow here as well. Later we try freshly picked dragon fruits that are juicy and delicious.
Diversity
I am surprised that so many different varieties are grown, I think I expected something more like monoculture. Well, I'm not an agricultural scientist either.
Between the greenhouses grow sweet potatoes, leeks, beans. A yellow-flowered cucumber cultivates up the pergola.
Finally we drive home heavily packed: beans, eggplants, cucumbers and tomatoes, peppers in all colors and also the delicious red dragon fruits. Too bad that the farm is so far away, these fresh vegetables directly from a farm in China is something very different than those from the supermarket, which is then still packed in tons of plastic.